Archives for September 2011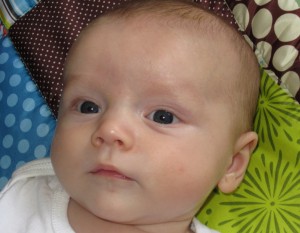 At 12 weeks, Evan is weighing in at about 14 pounds, 5 ounces.  Grown out of 0-3 and 3 month clothes and filling out most 3-6 month onsies.  Obviosly, he's a good eater and will take his food however he can get it from whoever will give it to him.  There's no room to be picky that way when you're packing on a pound every couple weeks.  The compliment we hear the most is, "Wow, he's a healthy looking baby!"  He sleeps great at night and naps are still hit and miss – that darn 45 minute intruder.  We're working on it. Watching his personality blossom is the best!  It seems he's changing from day to day.  Here are some of his current favorites:
-He LOVES his Daddy, especially since I've gone back to school.  Evan likes when Dan feeds him because that usually means they get to watch something awesome and manly on TV like Magnum, P.I. or Star Wars.  And while he loves his Daddy, let's not get crazy, Mommy still rates pretty high.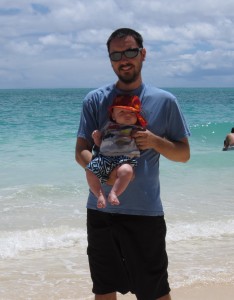 -Reflections mesmerize him, especially his own.  The wall behind our couch is all mirrors, so while I'm burping him, he entertains himself by smiling and talking to himself.  Super cute!
-In the last week or so, he's discovered his hands and finds them very fascinating.  As he flails around in excitement, he'll stop to stare at those strange things on the end of his arms.  He's learning to intentionally grab what he's looking at.  Amazing to watch him develop in this way.
-His favorite toy is his beloved monkey who faithfully hangs from his activity mat.  Evan talks to him, bats at him, smiles and holds him.  Even Evan has caught onto the current fad: Monkey's are so hot right now!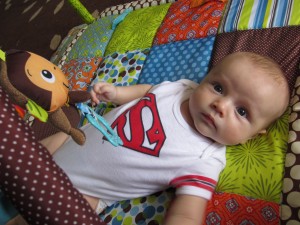 -From the moment he was born, he's been very alert, taking in all there is to see.  That hasn't changed a bit.  In fact, now that he has a little more control of his head, he gets to take in even more.  The way he whips his head around is hilarious.
-Evan is learning to express himself with his voice. Every night before bed, we swaddle Evan and sit with him on the couch to pray (and read a Bible story, if he'll have it).  The last couple nights he's offered the sweetest prayers to Jesus, smiles and all.  Of course, our prayer is he'll always use his words to pray and honor his Jesus.
The joy and happiness Evan brings to our home is more than I can say.   To think that a little more than 12 weeks ago, he was still cozy in my belly seems unbelievable.   We love our little mister!